Comfy, casual, trendy, streetwear is all the rage right now! And for the perfect fit, check out these best streetwear websites UK right now.
Since you can't go out trotting in a pair of high heels / dress shoes and designer gowns/suits with a bow tie all the time (as much as we love them, they are quite uncomfortable and impractical), you need to stock up on some stylish and hot streetwear.
Check out some of the best streetwear websites in the UK and their reviews below:
Top Streetwear websites UK in 2021
Given below is a list of the best streetwear websites UK can offer. Check them out!
#1- Urban Industry Streetwear Websites UK
Urban Industry is a popular store based out of Eastbourne that stocks a huge range of streetwear from some of the top brands, including but not limited to Levis, Stussy, Adidas, Dickies, and Nike.
One of the earliest stores to get into retail e-commerce, this brand has stayed ahead of the game right from 2003. This has definitely made Urban industry website one of the most shopped in, in the UK.
If casual is your style and you love to rock it with some funky clothing, check out this store's website that sells some real cool stuff. Simply browsing through the hats and trousers is so addictive and we bet you aren't going to move away from this page without adding some items into your cart.
#2- Kickz Streetwear Online Store
Kickz sounds like it just sells shoes but check out their website and you see a whole lot of choices for clothes, accessories and of course, shoes. With a huge inventory of some pretty impressive brands like The North Face, Under Armour, Timberland, Calvin Klein, Polo Ralph Lauren, Dickies, Champion, Levi's, Adidas and many more, you will never run out of options here.
Their own brand, Kickz has some basic clothes that are priced lower than the other brands. These are good too as they are of excellent quality and are durable for regular wash and wear.
They also have a "Sale" section right through the year when you can get last season's clothes and accessories for a fraction of the price. And as the name goes, do take a look at their shoes too for some fantastic kicks to match your outfits.
#3- Too Hot Limited Streetwear Websites UK
Too Hot Limited launched as a Vintage store and established themselves, making a name amongst the shoppers. Over the years this brand has evolved and we have loved seeing them evolve.
Though this website should still be your first choice when you are shopping for vintage clothing, do check out the sections that stock, excuse me for using this, some too hot streetwear and accessories. Want some 90s streetwear pieces? This is the place to go.
The latest collection of sweatshirts on a base colour of white are very "Grease", bringing on the nostalgia. The website also gives you the story behind their collaboration with various brands and people. We have to warn you that the merchandise on this website definitely does not come cheap, but you know as well as we do that you cannot put a price on style.
#4- JD Streetwear Websites UK
Who said you cannot wear your sporty outfits on the street? In fact, those are some of the best clothes as they are designed to be comfortable, both on and off the court.
Rather than visiting a million websites to browse and shop from, go to JD Sports for a one-stop solution for all your favourites. For both men and women, JD has a wide range of tee shirts, sweatshirts, track pants and even shoes. You can even shop for children on this website.
Ranging from brands like Champion, Dickies and Levi's to Nike and Adidas, there is something to appeal to everyone here. Speaking of the prices, this site again takes the prize as you have a wide range catering to all budgets here. What we love best about this site is the layout.
With lots of images and user friendly navigation, you don't have to struggle to find what you are looking for. Do check out their Sale section for amazing discounts.
#5- Urban Outfitters Streetwear Websites UK
If you are wondering what the latest styles are on the street, simply check out Urban Outfitters' website. Not only do you have just clothes for sale, but simply browsing through the images can give you a great sense of what to pair with what, and how to accessorise it.
Encouraging you to embrace what you love, be it some oversized boyfriend fit tees or some delicate lacy bodysuits that you can pair with a cute skirt, you will find that special outfit here that you can rock the streets with.
Prices are low, making these clothes affordable for almost everybody. Graphic T-shirts never go out of style but wearing the same old ones can get boring. Urban Outfitters has a unique range of batik styled graphic tees amongst others. They've even got some exclusive collaborative T-shirts with various celebrities, bands, movies, and TV shows.
Pair these with some cool cargos or go fully tie-die with their range of batik pants as well. While you're there, get yourself a hat to complete the look. This is a site that makes shopping easy with a neat and accessible layout.
#6- Addict Streetwear Websites UK
A true streetwear store, Addict is the benchmark for all other up and coming streetwear labels and brands. This store has been around for over two decades, dressing UK's men and women in the funkiest and coolest of clothing and accessories.
With the motto that they want to stay true to their passions, Addict clothing has collaborated and continues to do so with many musicians, athletes and artists to bring us some enviable selection of brands and products.
You can find tee shirts with one of a kind graphics that have been specially designed for the brand. This means, when you wear them, you can be sure that there isn't going to be many others wearing the same stuff around. These tee shirts are priced in the mid-range, so that isn't too bad.
To go with the tee shirts, they do have some trousers and jackets too, again ones that are priced not too high. While Addict does have very interesting streetwear, their inventory has very few items on it, which is a little disappointing.
#7- Elwood End Clothing
Streetwear need not be limited to regular branded tee shirts, hoodies and cargoes. Dare to go vintage and try out some vintage clothing on the streets this season. And if completely Vintage is not your scene, check out Elwood Clothing's take on Streetwear Vintage.
Their range is an amazing fusion that is authentic, interesting and always in vogue. For fans of certain brands like Chivas Regal or Coca Cola, you can now take pride in owning vintage clothes and accessories that are unique, one and only, and cannot be found anywhere else.
If Vintage is not something that appeals to you, the website also stocks heaps of streetwear in the most modern batik prints and with denim finish that are everywhere on the fashion streets now.
These are also clothes that are pretty unique and look different from your Nikes and Levi's as they are designed by the brand. The vintage clothing is priced on the higher end but the regular streetwear is affordable.
#8- Urban Mist Women's Urban Clothes
Urban Mist is headquartered in Manchester but originates in London. Knowing and understanding what makes the Urban woman tick, this website caters to stylish women in the mid-20's and 30's.
While this brand does sell an interesting collection of tops, dresses and trousers, what we love most about this are the other clothing like the kaftans, capes and ponchos in unique prints and trendy cuts that they feature. And not just a few pieces in each.
You will find loads of choices in each category and looking at the prices, you will be adding everything to your cart. As you guessed, this is a budget brand that won't break the bank, instead, will keep you coming back every two days to add to your wardrobe.
What works for this website and keeps them popular is that they focus solely on women and keep in tune with today's fast fashion scene.
#9- Trend Star Streetwear Online Store
You can call Trend Star Clothing as a hub that connects you to many fantastic streetwear brand websites. You can check out clothes and accessories directly on the website as well but the layout is not very good, which is a bit disappointing.
However, once you get over that and look deeper, you can't deny that they have a real good collection of streetwear. The selection starts from brands like Supreme, Kill Jeans, HBA, Patrick Kevin, Bape and hype., and goes on to loads of options from Ted Baker, Ralph Lauren, Cocoabella and Forreduci.
Like most popular websites, Trend Star also has a "Sale" section under which you can score some of the best brands for throw away prices.
#10- Tee Jerker Streetwear Clothing
Tee Jerker is a unique store as it stocks vintage and music tour tee shirts. An apt web store for hardcore fans of some popular bands like Nine Inch Nails, you are sure to find clothes worn by the artists themselves.
If you are lucky, you might even get clothes that are well worn in and therefore, hold high market value. The website is well organised with references to the different categories, with images that are clear.
The only thing that we would have liked even better is if there was a better description and maybe a short story behind the clothing of choice. The website ships across the world charging you as low as £11 as charges.
#11 – The Chimp Store Outlet For Streetwear Outfits
The Chimp Store has got everything – footwear, men's clothing, family essentials, accessories, and more. In fact, the chimp store jackets are famous for their quirky designs.
They have standard delivery rates no matter what your address is. And any any outlet (and even their website) you'd find good deals all the time. Just use the Chimp Store discount code, and you're set!
Dickies, Levi, Vans, Carhatt, Russel Athletic, Tommy Jeans, and HUF are some of the brands you can find at the Chimp Store.
#12 – Asos Designer Streetwear
Asos is one of the best brands for designer streetwear. Especially if you want something in varied size ranges. There's something for everyone – tall, curvy, petite, plus-sized. They've also got a maternity streetwear section. Awesome right?
And if you check out their SOKO Kenya collection, you'll find sustainable pieces, made with the help of local artisans from Kenya. These outfits help improve the life of local communities in Africa.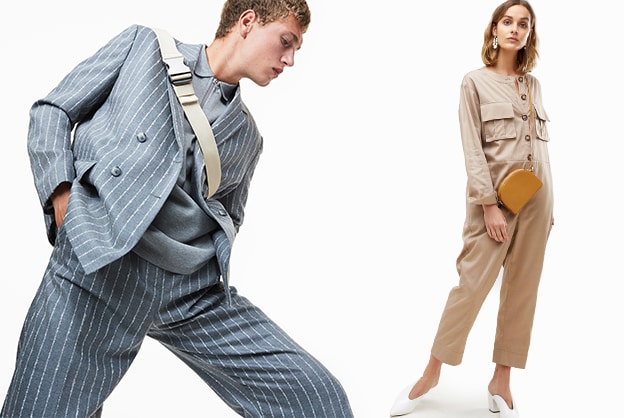 Streetwear is casual, affordable and the most used style across the world. We hope we have given some insight into the best websites that delve into streetwear style in the UK.
What are the best hypebeast brands?
A hypebeast is a person who's always up to date on the current trends in the Streetwear Community. Their wardrobe includes pieces include modern clothing from labels, vintage streetwear, etc. So the best hypebeast brands are those that feature core streetwear outfits. Some of the best hypebeast brans include:
Dickies
Yeezy
Adidas
Chimp Store – Specialists
Urban Outfitters
Nike
New Balance
Sacai
CLOT, and many others
Also read
Check out these stylish festival outfits for guys to look your best
Try on a new look with these awesome hairstyles with bangs that are so cute