Having fuller lips has now become a symbol of seduction and attraction. But everyone has the same question on their minds, "How to get bigger lips". So it's not about pouting for selfies, it has become a yearning for many. Just look at the Kardashian clan! We are always looking for ways to keep pace with these beauty conceptions.
And plump lips have always been on top among the many. While there are natural ways to make your lips seem bigger there are products as well that will help with the appearance of fuller lips. So read on to find out how to get bigger lips. 
Check out these natural hacks you can use to get bigger lips. Although it may take time we are sure that when practiced and paid heed to, this can be effective. Not only are these steps easy and can be done on a daily basis without making it a hassle.
How To Get Bigger Lips? Easy Lip Plumping Hacks
#1 – Ice Cube – how to get bigger lips fast
We are as surprised as you are with this! But the majority of the users have stated positive results after rubbing ice cubes on their lips on a regular basis. Not only does it remove dead cells and make it softer, it makes your lips look more plump and fuller. We suggest you do this for 14 days straight without fail and you can see evident results.
Tip
Wrap the ice cube in a clean thin cloth and hold it against your lips. Make sure you take regular breaks from pressing it against since your lips are prone to feel numb.
#2 – Peppermint Oil For Lips
Peppermint oil (when mixed with a carrier oil like olive oil) can give you plump lips overnight. It has antioxidants that act so well on your lips by making them pink and full. Using a cotton pad, dab olive oil mixed with two drops of peppermint oil on your lips and massage it for a good five minutes. Wash it off with warm water while also massaging it. You will definitely see surprising results on your lips.
Tip
We suggest you do this routine at night so that your lips have the time to absorb it without exposure to the sun. Even though you wash it, olive oil has a thick texture and can linger on your lips for longer.
#3 – Increase Lip Fullness With A Brush
This may seem a little strange but it has huge impacts. One thing we want to stress on the texture of the lips is that the dead cells can be very underwhelming for the skin. It makes the lips appear flaky and tough. Brushing the lips with a solution or a natural mixture can remove these dead cells and as mentioned before, massaging of the lips can make it more plump.
Tip
Try to use a sugar scrub and brush your lips lightly with these mixtures. Mix sugar and coconut oil in a bowl to create your very own DIY lip plumper tool and use this on your lips with the brush to take off dead cells. Sugar has the ability to make the lips more fuller.
#4 – Make your lips bigger with Cinnamon and vaseline
The mixture of these two is tremendous as Vaseline is already used as a moisturiser for the lips. Cinnamon adds the bigger boost to the petroleum jelly making the lips pink and plump! Massage this mixture onto the lips for two minutes and leave it on for about fifteen before you wash it off.
Tip
You could store this mixture in your fridge to use it the following week as well.
#5 – Beeswax and Anise oil – For bigger lips
This herbal mixture of Anise oil and beeswax is sure to bring you full lips and allow it to stay that way for longer.
Add beeswax onto a pan and pour a few drops of coconut oil into a pan and heat it for about 20 minutes. Let the solution cool down and store it in a container. This cannot be applied immediately but has to be applied every now and then as a lip balm.
#6 – Pout your lips – Use lip exercises to make lips bigger
Finally. This one's all in your control and can be incorporated into your body language. Pursing your lips in a way that will make it protrude forward is a way of it appearing more plump. Exercising your lips every time you have the chance is a way of making it a habit.
Tip
Keep aside an hour to repeat this exercise so that it's easier.
While these natural remedies will work on you without any consequences, there are certain products that will make it more effective. Check out these handpicked products to get fuller lips.
#7 Use a Plumping Treatment For Lips
SkinMedica HA5
This lip system is the most effective available in the market today as it has the presence of the hydraulic acid which appears heavier than usual. Wearing this will make your lips appear plump and give a more fuller structure to the lips. One of these tubes which is named 'smooth' is applied as the base after which the tube named 'plump' will be plonked on top and voila.. Your lips look bigger and much in form.
| | |
| --- | --- |
| Pros | Cons |
| Looks plump even with a considerable amount | Expensive. |
#8 – Exfoliate to increase lip fullness
Burt's bees lip scrub for bigger lips
There is a reason why we keep stressing on the importance of a good lip scrub. Once the dead cells are removed from the surface of the lips it appears more shiny which in turn looks more plumpy and big. This honey lip scrub is exactly what you need to acquire bigger looking lips. The honey which is dominantly present in the scrub allows your lips to shine and reflect light more making it bigger.
| | |
| --- | --- |
| Pros | Cons |
| Natural conditioning for the lips | Might not last long |
Customer review
" This served as an overnight therapy for my lips. I have flaky lips since I often chew on them, but just one night of this lip scrub made it smooth and now my lips look plump."
NWQEWDG Exfoliating lip brush
Here's the product that we have been stressing on so much!
Trust on the fact that the more smooth your lips are, the fuller it will appear. Don't miss out on the opportunity to cleanse your dead cells and have to bring out the form of your lips. Make sure to be gentle on your lips. Although the bristles are not harsh, it is possible to hurt your lips if you're too hard against the skin.
| | |
| --- | --- |
| Pros | Cons |
| Affordable | Can be hard on the lips. |
#9 – Overline! Make lips look bigger with makeup
Rejawace lip liner pen set for plumpy lips
Lip liners are an amazing way of showcasing bigger lips. Casting an outline makes the whole form more appealing and attractive. This lip liner set has the best and exotic colours that you will ever need. Don't forget to fill your lips with a complimenting colour to complete the look. This set has all the colours that you will ever need to go with any look and any shade.
| | |
| --- | --- |
| Pros | Cons |
| Awesome range of colours | Might not be suitable for women with extremely thin lips. |
Customer reviews
"Reasonable price and exciting shades that go with any occasion"
These natural remedies and products are sure to do their job with exuding size to your lips and giving you a better shape. But there are so many queries that need to be answered on getting bigger lips. Don't worry, we have answered some for you.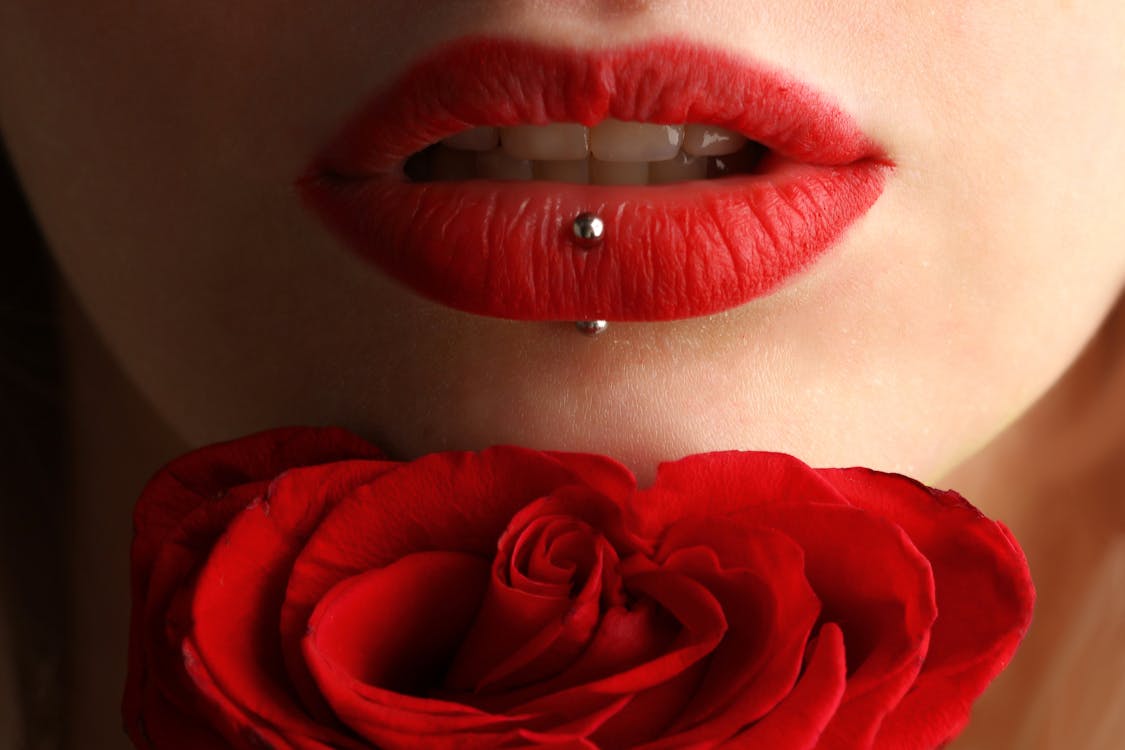 Does Vaseline make your lips bigger?
As we have already mentioned above. The trick of exuding volume to your lips is that the surface has to be smooth. The smoother the surface is, the more light it attracts. Once your lips are appearing all shiny, it tends to look bigger. Vaseline does a great job at that and gives you a shiny surface. We suggest you wear it as a base and use an exciting colour on the top to jazz things up.
What exercises make your lips bigger?
Purse your lips forward
Curve your lips into a slight smile and then back to normal. Repeat.
Face lifting is another important part of exercising to make your lips bigger. Pull your face upwards and downwards and continue.
These exercises will elevate the volume of your lips and make small changes in how you look. Make sure to follow these tips whenever you can.
Does biting your lip make it bigger?
Biting your lips hard can make it reddish and big for a while but it will return back to its normal shape and size. Biting of the lips can be an extremely bad habit but we assure you that it does not contribute to the volume of your lips.
How to get big lips permanently?
To get fuller and bigger lips permanently surgery is the option. There are different kinds of surgical options that you can go for. Some are lip grafting, lip implantation, and lip fillers. If you have your mind set on getting bigger lips, then it is important to prepare yourself for this big step.
We suggest you take advice from dermatologists and other experts before you make this move.
Does peeling your lips make them bigger?
Using a chemical peel like salicylic acid can remove dead skin layer on top of your lips. It can leave your lips softer but not bigger. Some chemical peels, however, come with peppermint oil, etc. that have a plumping effect on your pout.
How to get big lips with makeup?
This is probably the solution for an everyday look, especially if you don't want to take major steps.
Use a lip liner and outline your lips. Choose a darker shade which will make the outline more prominent and showy.
Apply vaseline as the base on your lips. Don't put too much as it can seem messy and can be hard to fill in.
For the final touch, use a nude shade and coat your lips with two layers of this lipstick.
There!
You have plumper and bigger lips just with the help of using makeup.
Plumpy lips remain a fantasy and sign of beauty even now and with the looks of it, for a long time. We hope these tips and products help you acquire thicker and fuller lips.
Read also
Stylish women's clothing brands on Aliexpress that you need to check out
Trendy airforce 1 outfits for guys to rock
Trendy and stylish teenage clothing brands in UK
Anne Gabriel is the main author of Fashion Style & You. She loves all things fashion and is extremely passionate about preaching her fashion mantras to the world. Check out everything from fashion guides to body care essentials you'd want on www.fashionstyleyou.com